If you're a successful business owner or incorporated professional looking for help, you're in the right place.
Based on what we've learned, most of the financial advice you get is centred on investments. And to make matters worse, it's usually mediocre at best.
But business owners and incorporated professionals require a different set of expertise when it comes to Investing, Insurance and Group Benefits.
That's where we come in.
Our team brings over 100 years of combined experience to the table for your benefit. We specialize in working with business owners and incorporated professionals just like you.
Aside from personalized service, high-quality advice and superior outcomes, what makes us valuable to business owners is our ability to look after your financial needs as a single team.
And since building trust is hard to do with someone like you.
That's why we created 27 Tips For Successful Small Business Owners and Incorporated Professionals. 
We're passionate about wanting to help professionals and business owners succeed financially.
In this FREE guide, I'll arm you with ideas to instantly save you money, pay less tax, grow your business, and protect your family's wealthy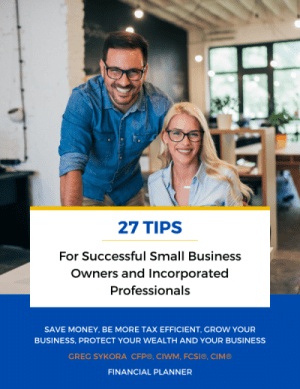 Here's what you get in this FREE guide:
● 5 Finance Tips
● 6 Business Structuring Tips
● 6 Investing Tips
● 7 Insurance + Employee Retention Tips
● 3 Growth Tips
Here are the professionals that work with us and benefit from our expertise:
● Self employed Doctors
● Self employed Lawyers
● Incorporated Business owners of small – mid size regional service companies and manufacturing companies
● Incorporated Real Estate agents
● Self employed Health care professionals
● Local winery owners
Want to learn about how we can help you?
Here's what you can expect from working with us:
I have personally and corporately worked with Mark Zavitz and now Zavitz Sykora Financial Strategies for 30 years. The team at Zavitz and Sykora have successfully managed our Employee Benefits, Group Retirement Savings Plan and implemented personal and corp Life Insurance for estate planning.I recommend Zavitz and Sykora and their team of seasoned professionals.
Gordon Sheehan
Brokerlink Broker
The Zavitz and Sykora Financial Strategies team have looked after my family for over 20 years. They have a high level of expertise and have worked with my tax and legal professionals to create very effective integrated solutions involving investment and estate planning. They provide me with objective advice, and I feel safe because I know that they always act in my best interest
John Langerak
Retired – Former Owner + President of OskamSteel
I have used Zavitz and Sykora for over 20 years now. What I like is the personal and professional service and now the monthly newsletter that keeps me informed and up to date on the market. I would highly recommend them for your financial services and day to day life insurance needs.
Barry M Robbins
President - Robbins Towing
We have entrusted our financial investments with Mark Zavitz for over 20 years. Recently, the company added an advisor, Greg Sykora and we have been very impressed with his knowledge and hospitable nature. My elderly mother was unsure of how to handle her affairs after my father's passing and Greg came to the house and was able to explain her options in a manner she was able to comprehend. We completely trust Zavitz and Sykora for our investments.
T&L Nugent
L Nugent - M.O MSc. Osteopathic Manual Practitioner
Greg has been a consistent wealth of knowledge for all my financial portfolios. Greg has the rare ability to explain complex economic matters in a manner that is easily understood and specifically related to my financial goals. Even in a time of economic uncertainty such as 2022, I have the outmost confidence Greg will provide the best guidance with my finances and deliver the best results.
Gary Borges
Officer - City of Toronto
I have worked with Mark Zavitz of Zavitz & Sykora Financial Strategies (ZSFS) for 30 years. The ZSFS team have provided valuable guidance with my personal and corporate investments as well as my estate.
One of the things that I most appreciate from ZSFS is their personal touch. I prefer old-fashioned human conversation over text and email. The team is always available for face-to-face and telephone conversations. Working with ZSFS is having a relationship with people who appreciate people; not a corporate machine. I feel that I am seen, heard, and understood. They take the time to explain and let me know what to expect. The office is a comfortable atmosphere where everyone knows who I am. They truly appreciate my business and never hesitate to say thank you. Ultimately, I trust the ZSFS team and that is the most significant benefit of working with them.
Dr. Mike Nagel
Doctor - Michael Nagel Medicine
I have been a client of Mark Zavitz for over thirty five years, starting with a Sun Life insurance policy. From there, Mark set up investments for me with Great West Life (now Canada Life) and Mackenzie investments. He has also assisted with the portfolios and estates of several relatives. Mark has always been most helpful and given excellent advice throughout the years. I very much appreciate all that he has done for me and my family. I highly recommend him and Zavitz and Sykora Financial Strategies. Also looking forward to working with Greg Sykora in their new company. Five Stars
The goal at this stage of my life is to fund a comfortable retirement while maximizing my assets and offsetting the impact of any future tax increases and inflation. Greg Sykora has helped me create a solid financial and estate plan that does just that.
With his deep knowledge of financial markets, products, and trends, Greg explains a recommended course of action in a clear and trustworthy manner. In addition, he brings patience and geniality to the table. I would highly recommend choosing Greg and Zavitz & Sykora as your financial planner.